Workflow Desginer in details
Workflow Desginer gives the largest are to the display of your Workflow.
It is organised around following items
Command Bar to Open or Create Workflow, and Hide or Show Panels
Graphic area where is displayed the Workflow
3 Tool's Panels allowing to

Add Step and Global Transitions
Manage Workflow Layout
Manage Visibility of Worklow Items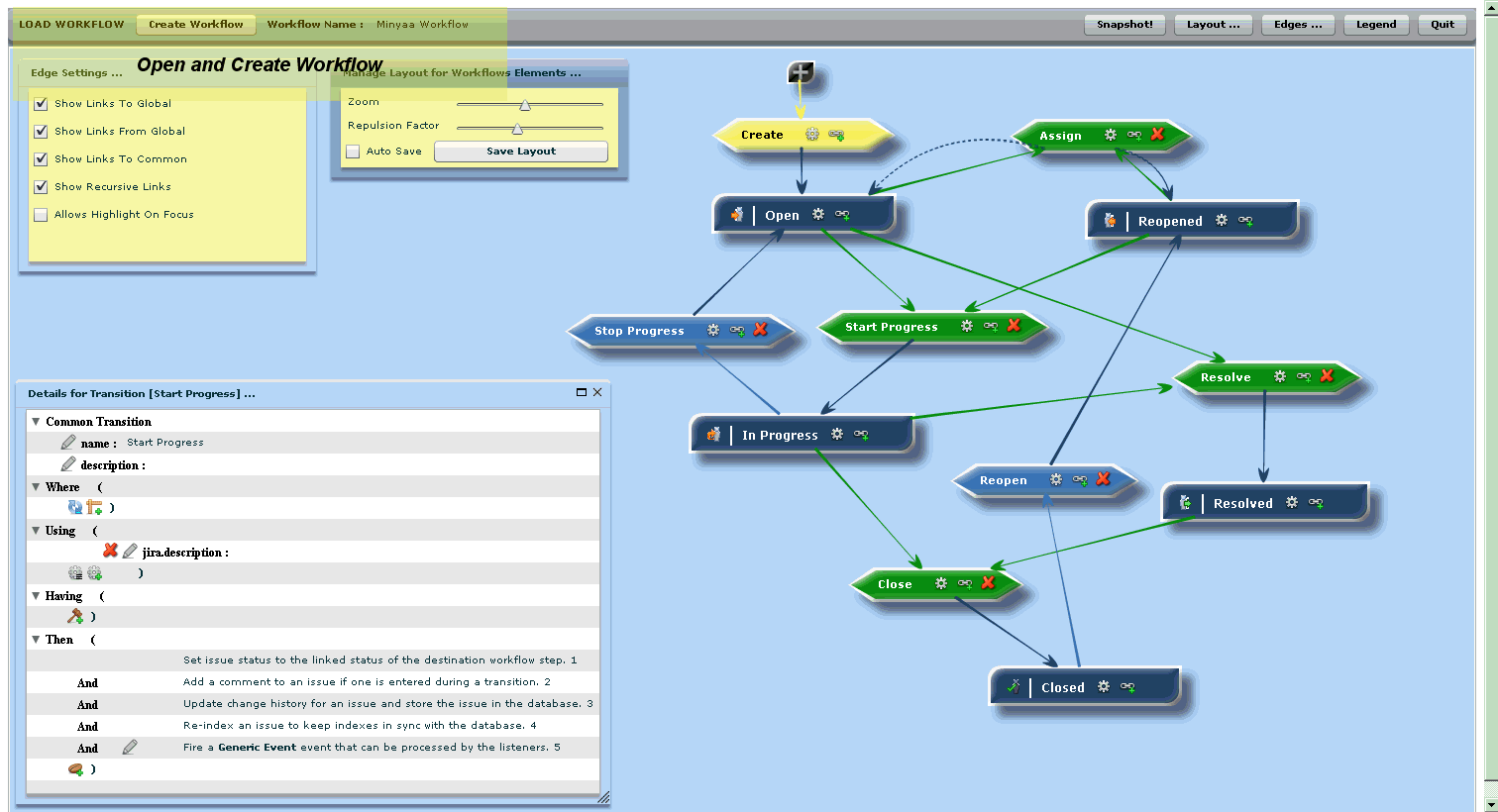 Workflow Command Bar


From the Command Bar, you can open any Workflow (Active, Read-Only or Draft Workflows) or Create new Workflow ...
Hide or Show differents Panels :

Add Workflow Elements Panel
Manage Layout Panel
Edge Panel
Legend
Add Workflow Elements Panel


From Add Workflow Elements Panel, you can add new Step in your Workflow. or add a new Global Transition :

Normal Global Transition with Recursive settings
Special Global Edit Transition with properties which gives the ability to associated the Edit Operation to a Transition.
See details in Issue Validations section.
Manage Layout Panel
The
Manage Layout Panel
provides :
A way to change the Zoom ratio in order to have a better view of bigger Workflows. This Zoom ratio can be also changed with Mouse Wheel.
A way to change the Repulsion Factor : When you open a Workflow for the first time, the Workflow Designer try to optimise the position of each Workflow Elements.
The current algorithm is based on a Repulsion factor combinated and the overlap of Workflow Elements.
The ability to save current Worklow Layout. This Worklow Layout will reused on next Workflow Open.
It is possible also to activate a Auto-Save (each 5 sec.). It can be useful when you create your Workflow, because some action may need the reload of the Workflow.
Edge Panel
The
Edge Panel
is just a list of settings that can be activated in order to :
Show or hide links From Global Transitions. Each Step has link from Recursive Global Transition.
Show or hide links To Global Transitions. Each Step is linked to any Global Transition. It may be practice to see only useful links!
Other options will be available in future releases :

Highlight Steps : Steps will be highlighted and Transition 'lowlighted'
Highlight Nominal : Normal Scenarii (normal transition from Initial Step to Final Step) will be highlighted
...
Legend Panel
The
Legend Panel
shows all graphicla items (Workflow Elements and Icon) available in
Workflow Designer
.